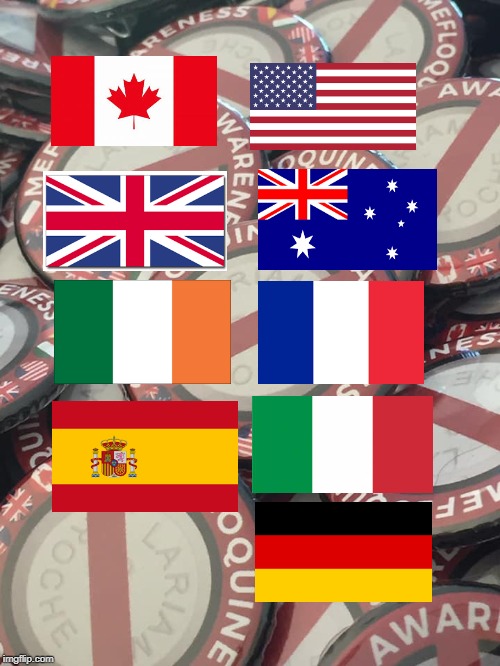 https://it.insideover.com/guerra/soldati-italiani-vittime-della-sindrome-vietnam.html
Italian soldiers victims of the "Vietnam syndrome"
About a week or so ago, I noticed one of my posts being shared on Facebook. There's nothing unusual about that, it happens often, but what was unusual is that when this post was shared, the person sharing it spoke Spanish, and commented on the post in it.
It suddenly struck me that mefloquine has effected people in countries across the globe who speak languages other than my native tongue. So, I thought the best thing to do would be to start translating my posts into spanish. It also occurred to me that there were a lot of veterans here in Canada that might live in Quebec and only speak french.
So, I figured it would be a good idea to translate them into french while I was at it (thank God for Google Translate is all I have to say). WordPress provides me with a number of statistics about my posts including which countries my posts are being read in. In Europe France, Italy, and Germany have the most clicks, so I thought I might check into this.
Once again utilizing Google Translate, I took a look at what the situation was like in Italy, and it didn't take me long to become very alarmed at what I was seeing. Italian troops had been taking mefloquine since the first Gulf War in 1991 and from what I can tell, it is still being given to them.
http://www.ilgiornale.it/news/esteri/follia-i-soldati-colpa-pillola-954029.html
Madness among soldiers blamed on pill
Rates of suicide among Italian veterans is high as is the number of veterans diagnosed with PTSD. Although there has been some media coverage of the issue in Italy it doesn't appear as though anything is being done about it, and I could find no sign of any kind of advocacy activity whatsoever.
This has prompted me to take some action that I hope will begin to marshal all of the available resources into one place, and have a wide reach globally. To begin with I sent an email to Marco Marcolin, a deputy in the Italian parliament who had been looking into the high number of suicides among veterans.
I gave him as much information as I could while still trying to be brief. I sent numerous attachments to him, academic articles, etc. that would tell him what he needed to know. I also told him I needed to find a way to get in touch with as many Italian veterans as possible, and fast.
The International Mefloquine Advocates Network
Obviously an Italian translation would now need to be done and I thought I might as well make a German one while I was at it. Next someplace to start posting things in a manner such that there wouldn't be 5 different translations of an article going on a page at a time.
To solve this problem, I set up a Facebook group called the International Mefloquine Advocates Network. I have also created a page for it, as well as pages for translations in french, italian, spanish, and german. My posts to these pages will be translated prior to me posting on them obviously.
It is my hope that through this group advocacy and education efforts can be made uniform, in order to begin organizing efforts globally. It is also my hope that experts in the field will also utilize it to provide the most up to date medical and legal news and views.
Mounting a co-ordinated effort
By coming together in this way our voice will only get louder, until the message has been heard and understood by all. We're a long, long way from that just yet, but things have to start somewhere.
This is also a group for any and all who have an interest in this including advocates, veterans, Peace Corps volunteers, vacationers, as well as their caregivers, friends and/or family, and certainly medical professionals as well.
No matter where you are in the world, you can be a part of the same world-wide battle, and add your voice to the many others that have now begun to rise up.
The coming threat: tafenoquine
The next generation of quinoline anti-malarial has hit the market in Australia, and by all accounts it is mefloquine on steroids. Going by the brand name Krintafel, tafenoquine was tested on members of the Australian Defense Force. Judging by reports, yet another monster is being set loose among an unsuspecting public.
#inthistogether
There are moments when things happen in life that cross the barriers of location, language, and culture, and one of those things unfortunately is chronic quinoline encephalopathy, or, quinism. Masses of people around the world have suffered and there are many more out there who don't know what is happening to them right now.
Statistically speaking, the total number of people in any single country who is currently suffering from quinoline toxicity will be extremely low, and as such it is hard for their voices to be heard. But when those voices from all around the world rise as one, their message is heard by all.
We're all stronger because we're #inthistogether.
Now if you'll all excuse me, I have some translating to do.
D.B.
Facebook Groups
International Mefloquine Advocates Network (EN)
Red Internacional de Defensores de Mefloquina (SP)
La mefloquina internazionale difende la rete (IT)
Réseau international des défenseurs de la méfloquine (FR)
Internationales Mefloquine Advocates Netzwerk (DE)
Internationaal Mefloquine pleit voor netwerk (NL)