Awe inspiring memorial the reason behind "Exercise Freedom Together".
As we near the last bit of the dog days of summer, Remembrance Day is probably one of the farthest things on most of our minds. Yet, for some it is very much at the forefront. For them it is the culmination of a commemoration of remembrance that starts at the beginning of November and runs until the 11th. They are the many men and women involved in the Field Of Crosses Memorial Project in Calgary.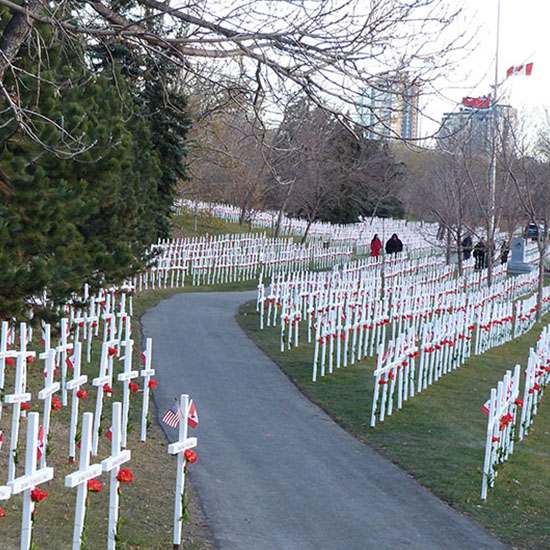 Every November since 2009 over 3,500 white crosses have been popping up on a clearing along Memorial Drive here in Calgary, the thoroughfare named in honor of those from Southern Alberta who perished in the Great War of 1914 to 1918, better known as World War One. After the war a plan was made to have a living memorial to those fallen, and between 1922 and 1928 3,278 trees were planted along Memorial Drive. The majority of them were poplar trees which are now at or near the end of their natural life cycles and will be replaced by a number of different tree species.
The crosses stand on a two hectare parcel of land on the north side of Memorial Drive not far from the Centre Street bridge. Some 3,500 stark white crosses, each representing a military service member from Southern Alberta who gave their life in service to their country. These were men and women from Calgary, Lethbridge, Medicine Hat, and numerous other communities who answered the call of duty and made the ultimate sacrifice for their country. Navy, army and air force personnel from the Great War to Afghanistan including our fallen peacekeepers are memorialized here.
Sunrise and sunset ceremonies
Beginning on the first day of November and going everyday until the 11th solemn ceremonies are held at sunrise and sunset according to tradition, with a flag raising ceremony at dawn and a flag lowering cermony at sundown. For schoolchildren the sunrise ceremony is an excellent way for them to learn about the history of this country and the significance of Remembrance Day. Many field trips have taken place here since the memorial began.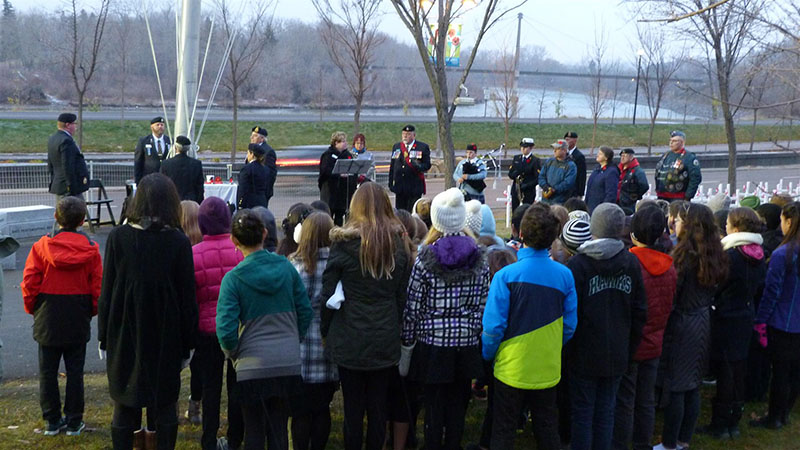 A sunset ceremony is particularly poignant as the field is illuminated with nearly 3,500 candles, one placed in front of each cross and lit by a group volunteers. It is one of those scenes that can leave a person awestruck. Not only is it something to behold it also serves to remind us that there is a life that has been lost for each candle, a life with a story of their own, a life cut tragically short.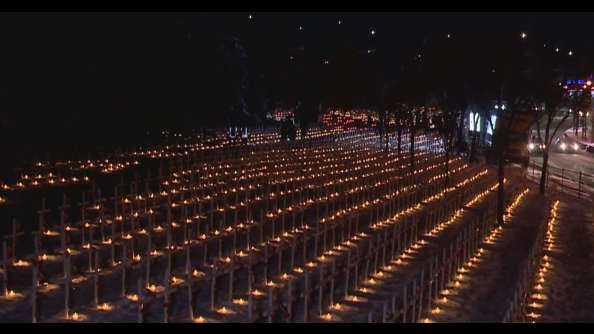 Inspiration
It was Calgary businessman and philanthropist Murray McCann who had the vision for the memorial. His inspiration came while driving through the southern US state of Georgia where he encountered a roadside memorial of crosses in the small town of Menlo. Residents of the town had put them up to honour those from their midst who had died in service to their country. When he returned home he told his friend, Calgary Poppy Fund president and navy veteran George Bittman, about his plan to put up a memorial to southern Alberta's fallen. Together they were able to put up the first memorial in 2009. George Bittman was tragically killed in an accident in 2012 but McCann vowed to carry on in George's spirit.
The philanthropist wanted to make sure that this memorial would outlive him in perpetuity, and in 2019 the Field Of Crosses Memorial Foundation was granted status as a registered charity.
#Exercisefreedomtogether
This year the foundation has launched its fundraiser which it has called Exercise Freedom Together. It's an invitation for Canadians to celebrate the freedoms for which our fallen military service members have made the ultimate sacrifice, while enjoying some exercise in the company of others. It is a challenge to walk, run, or bike 3k and post a photo of you or your squad, with your hand on your heart if possible, to Facebook and/or Instagram (or other social media) using the hashtags @Exercisefreedomtogether or #Exercisefreedomtogether. Individual participants are asked for a donation of $5 and "squads" (groups of up to 5) donate $25.
More importantly however they are asking that you challenge others to do it as well. The goal is to raise $150,000, so the more people that hear about Exercise Freedom Together the better. Form a squad with your friends or your coworkers and challenge others to get out and walk, run, or bike 3k for the Field Of Crosses Memorial Foundation.

100 days from 8 August 2020 – 11 November 2020
The campaign is running for one hundred days beginning on August 8th and ending on November 11th, 2020. This is to comemmorate the period of World War I known as The Last Hundred Days, which was the last 100 days of the conflict. During that time the Allies made huge advances against the Germans, winning a number of important battles, and the Canadian Corps played a significant role in it led by Lieutenant-General Sir Arthur Currie who is considered to be one of the best field commanders not only in the Canadian army, but of all time.
The cost of these victories was enormous on all sides with tens of thousands of soldiers killed, wounded, or missing in action. The Canadian Corps suffered over 45,000 casualties during the last hundred days. To put this into perspective Canadian troops first saw action in April of 1915 meaning that they would begin to see casualties at this point. Of the total number of Canadian casualties at the end of the war one fifth, or 20%, occurred in the last one hundred days.
Across the country
From its inception in 2009 the Field Of Crosses Memorial has been unique to Calgary, but the Foundation would like to see it spread to other communities accross the country. It is an incredibly poignant way to honour those who have fallen, particularly in communities that do not already have permanent memorials.
So what would it take? To start with, an individual or group who would be willing to dedicate the time and effort that it would take to do it and a list of the fallen from your community. For more information you can contact Major (retired) Kent Griffiths from the Field Of Crosses Memorial Foundation.
Special thanks to Major (ret.) Kent Griffiths
Sources
https://www.fieldofcrosses.com/
https://www.calgary.ca/csps/parks/history/memorial-drive-trees.html